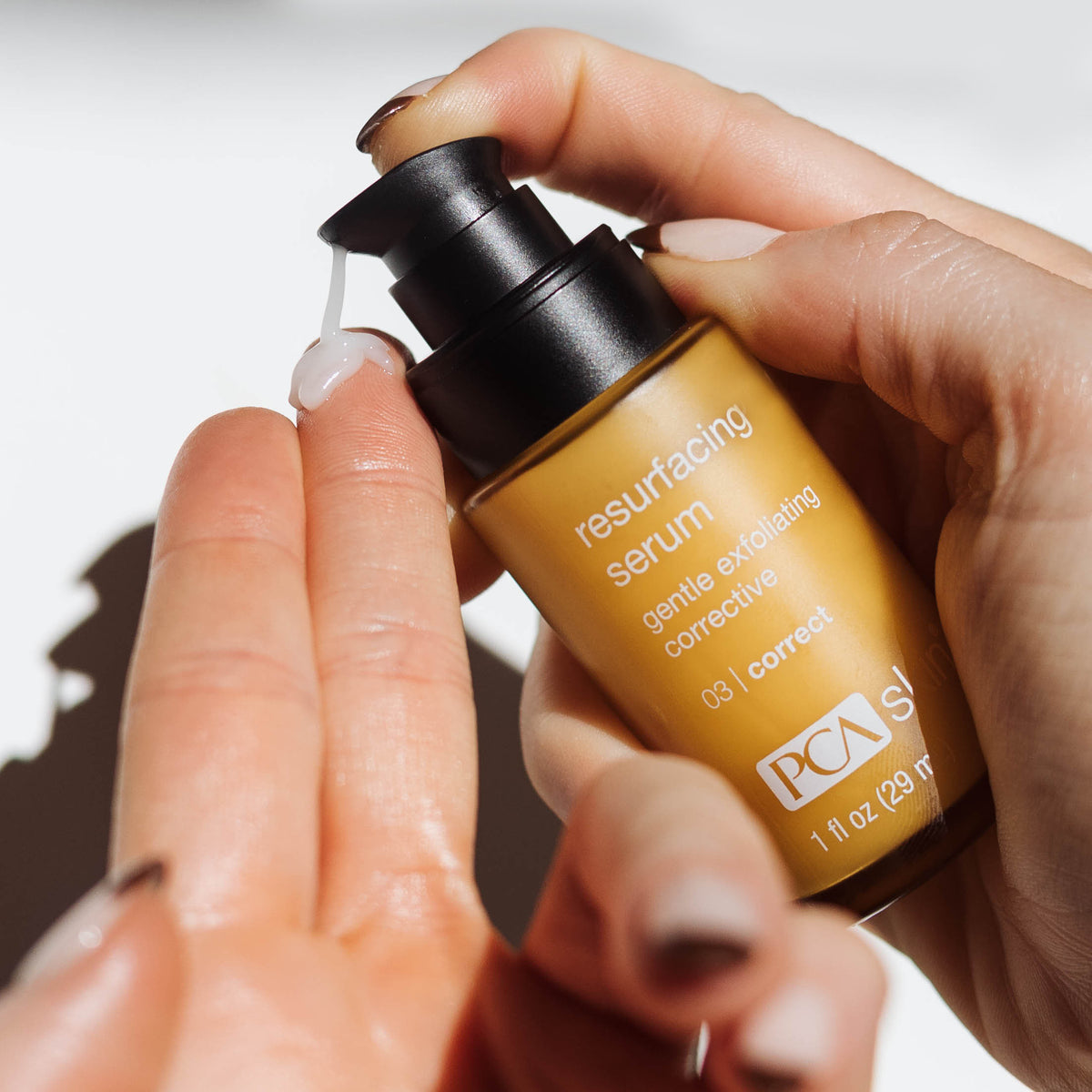 The path to skin care goals is here with the daily use of Resurfacing Serum. Powered by a gentle, unique blend of AHAs, PHAs, and botanical extracts that improve the appearance of fine lines, pore size, redness, and uneven skin. Using Resurfacing Serum twice a day is shown to improve overall skin texture and radiance, resulting in a hydrated and youthful glow.
Key benefits
Provides gentle exfoliation while hydrating and calming the skin.
Reduces the build up of dead surface cells.
Leaves skin radiant, smooth, and clear.
Exfoliate while hydrating and calming the skin Improve overall skin texture and radiance.
Exfoliating ingredients
Glycolic arginine complex (AHA)-  A gentle exfoliator that slowly releases glycolic acid into the skin to increase skin cell exfoliation, improving texture and clogged pores.
Lactic acid (AHA)- Allows for easier exfoliation of dead skin cell build up.
Lactobionic acid (PHA)-Improves skin tone, clarity, fine lines, and texture.     
Hydrolysed prickly pear flower extract (botanical)- Supports skin barrier function and natural exfoliation process, making skin smooth and hydrated.               
Hydrating Ingredients                                                                                
Saccharide Isomerate (hydrator)- A highly effective moisture regulator that also strengthens skin barrier function.
Your PCA Skin multi-tasking approach
Easily add Resurfacing Serum into your daily regimen alongside your other favourite PCA Skin® products and professional treatments. Use these example regimens to find out where Resurfacing Serum fits into your routine.
*We strongly recommend using a broad spectrum SPF every morning as the last step in any skin care routine.
Shop the product here: Resurfacing Serum
PCA Skin® Certified Professionals are expertly trained to provide customised professional treatments and daily care regimens. Talk to your local PCA Skin® Certified Professional about the right treatment plan tailored specifically for you find them here.