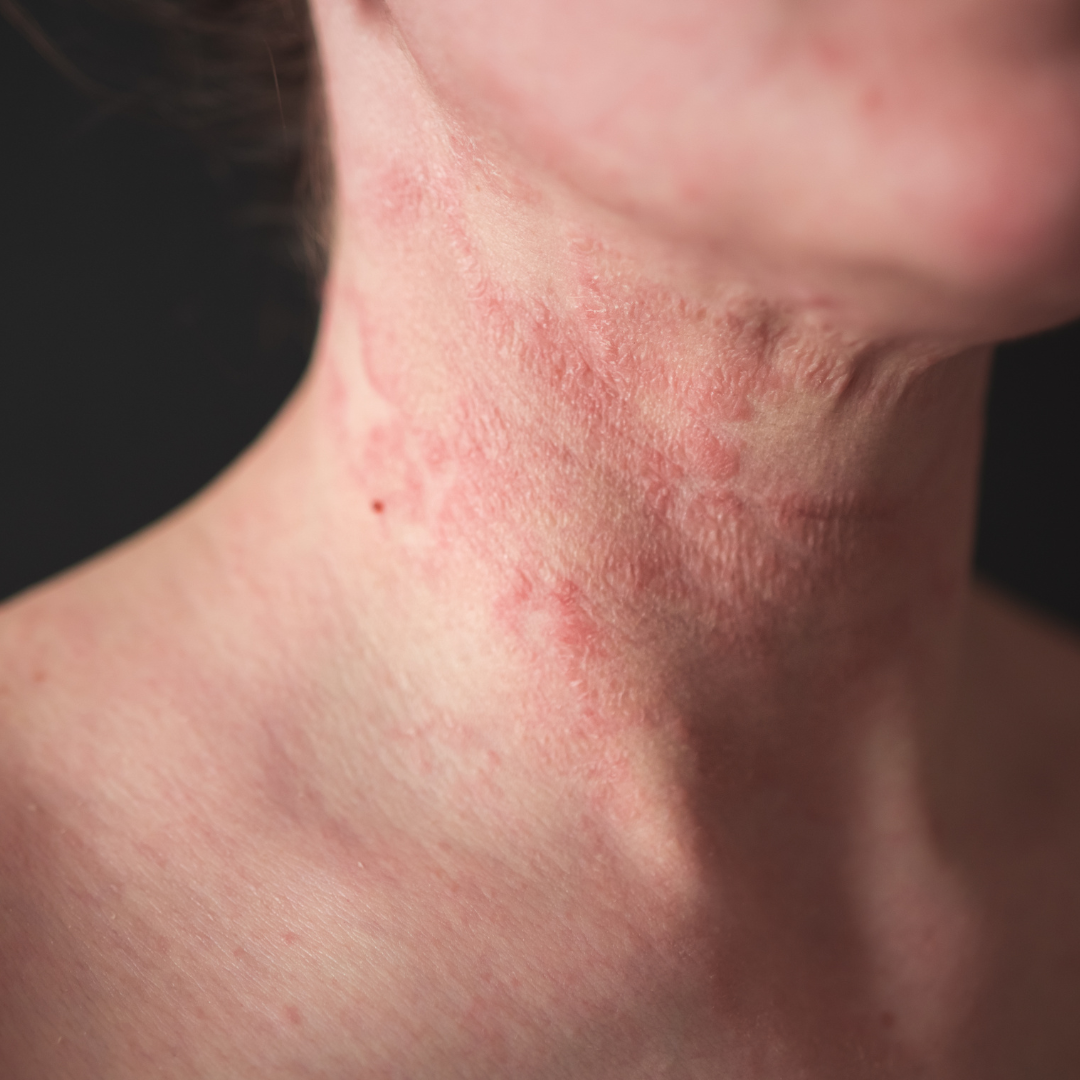 Eczema (also known as dermatitis) is a dry skin condition. It is a highly individual condition which varies from person to person and comes in many different forms. It is not contagious so you cannot catch it from someone else. The word eczema comes from the Greek word "ekzein", which means "to boil."
In mild cases of eczema, the skin is dry, scaly, red and itchy. In more severe cases there may be weeping, crusting and bleeding. Constant scratching causes the skin to split and bleed and also leaves it open to infection.
Eczema affects people of all ages but is primarily seen in children. Those who "grow out" of their eczema during early childhood may see it recur again in later life.
In the UK, one in five children and one in ten adults have eczema while eczema and contact dermatitis account for 84-90% of occupational skin disease.
Atopic eczema is a genetic condition based on the interaction between a number of genes and environmental factors. In most cases there will be a family history of either eczema or one of the other 'atopic' conditions i.e asthma or hay fever.
About our skin
To understand what eczema is and what causes it, it helps to know something about the differences between healthy skin and skin affected by eczema.
Our skin provides a strong, effective barrier that protects the body from infection or irritation. Skin is made up of a thin outer layer, a fairly elastic one in the middle, and a fatty layer at the deepest level. Each layer contains skin cells, water and fats, all of which help maintain and protect the condition of the skin.
Healthy skin
Healthy skin cells are plumped up with water, forming a protective barrier against damage and infection. Fats and oils in the skin help retain moisture, maintain body temperature and also prevent harmful substances or bacteria from entering our bodies
One way of picturing the way your skin works is by thinking of it as a brick wall. The outer skin cells are the bricks, while fats and oils act as the mortar that keeps everything together and acts as a seal. The skin cells attract and keep water inside, and the fats and oils also help keep the water in.
Barrier function in eczematous skin
If you have eczema, your skin may not produce as much fats and oils as other people's, and will be less able to retain water. The protective barrier is therefore not as good as it should be. Gaps open up between the skin cells because they are not sufficiently plumped up with water.
Moisture is then lost from the deeper layers of the skin, allowing bacteria or irritants to pass through more easily. Some everyday substances contribute to breaking down the skin. Soap, bubble bath and washing-up liquid, for example, will remove oil from anyone's skin, but if you have eczema your skin breaks down more easily, quickly becoming irritated, cracked and inflamed.
Because it is prone to drying out and is easily damaged, skin with eczema is more liable to become red and inflamed on contact with substances that are known to irritate or cause an allergic reaction.
Eczema Solutions
STEP 01
Cleanse skin. Rinse with warm water and pat dry.
Creamy Cleanser £34
Aloe, essential fatty acids, and beneficial oils gently remove dirt, oil, and debris
without stripping normal to dry skin of moisture. This hydrating cleanser leaves
skin smoother and more radiant after each use.

STEP 02
Apply one to two pumps to hydrate and smooth skin.
Hydrating Serum £87
Sodium hyaluronate, panthenol, and niacinamide nourish and calm skin while
maintaining moisture levels to minimise dryness. This daily-use serum with a
weightless finish provides lasting hydration, leaving the skin soft, supple, and smooth.

STEP 03
Apply for calming hydration.
ReBalance £45
Vitamin E, borage seed oil, and evening primrose oil calm and soothe all skin types while providing powerful antioxidant protection. This daily moisturiser provides light hydration to keep skin soft and balanced.
ADVANCED BARRIER PROTECTION
Skin Procedure Ointment £40 Petrolatum (60%), Silymarin, Panthenol, (pro-vitamin B5), Shea butter.
Benefits: soothes and protects compromised skin, reduces inflammation and redness
Application: can be applied liberally and as needed to speed up skin recovery.